Unlike a few lucky PC-hogs, I don't often have the chance to hang around in cyberspace as often as I wanted to. Not only would sitting in the LCD-illuminated corner of the bedroom enables me to grow mushrooms in my ear (fungus infection actually, had it before), my ability to communicate with flesh-and-blood people without the aid of a spellchecker or C-programming stipulations would rust and shrivel to awkwardness.

I still want to be a PC-hog though.

But I have a second great love that must be appeased so with the aid of a Kenari car, dual parental units, a Down-Syndrome aunt and a midget under 3 years of age, I was in Ikano Power Centre yesterday for its book fair.

Mak only dragged me along because given the choice, she would rather just take my Popular Discount Card and be done with it. Well you can't have your 500 tarts and pastries recipes and Popular card too (and I'm not leaving until I get my own paperback).

Popular store book fair will be going on until 9th March, me thinks. I didn't ask anybody, I just read the big schedule board of events.

After that, the rest of the day was pretty okay. I don't want to go into wordy detail about my yesterday (as I strayed to do) mainly because today's February 29 is more than a specially once-in-four-years day.

It's also my homework deadline (eeep!).

So I'm just going to throw out the photos I've taken with my Sony Ericsson about the last 24 hours in sequential order.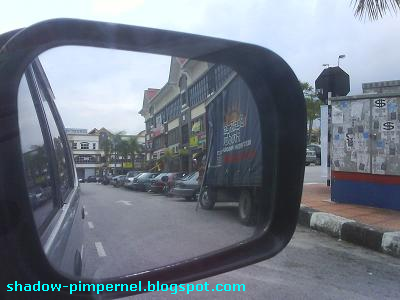 7.11am: In the shoplots area next to some big ol' apartment complex.
I was shaken awake from a very nice dream about me falling asleep and dreaming about me falling asleep and dreaming about falling asleep ... well, you get the idea. But I had to wake up and take the car to the new 7Eleven store because
someBABY
abhor brown-grain bread and demands
white
bread.
Anyway, took the opportunity to snap a pretty interesting reverse perspective photo. The mirror reflects what's behind me but the line of perception looks as if the side view mirror is just a frame instead of a mirror. Lucky shot, me thinks.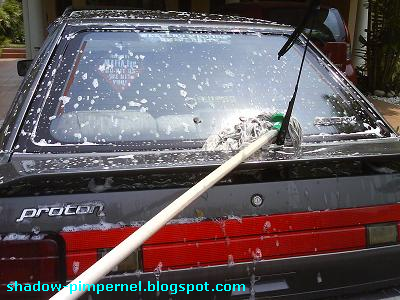 9am: At home...
Along the way back from the shoplots area, I've learned something today. When you park next to a 24-hour
mamak
restaurant that always serves yesterday's rice to a flock of too-heavy-to-fly-anywhere-else fat pigeons, always, ALWAYS make sure that you're not parking under a freaking tree.
And I already have enough trouble with crows at school.
*gerrrrrrram-nya!*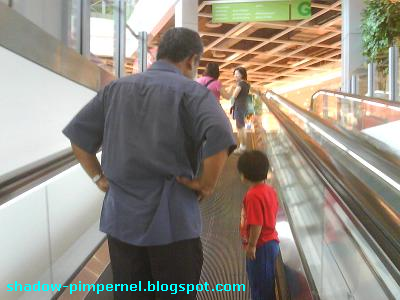 11:30am: An Ikano trip.
From the back, you can tell that they're both related. This is the 1st-generation male parental unit with the 3rd-generation infantile unit. The minor can't be told to stand still and the elder can't scream too loud to command the minor.
But surprisingly enough (actually, it's not a really big surprise), minor kid did stop to check the girls in front of him (he stood still long enough for the whole escalator trip; Wow, new record!).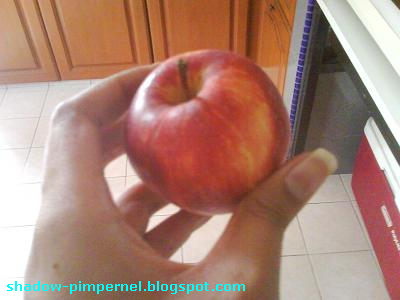 2pm: At home...
No major picture here. Mak just brought home a book of making 500 types of pie recipes, of which 99.9999% will never be made according to exactly instructed by the book. Currently, she's contemplating a radical approach to apple pies. This will be the last time this forbidden fruit shall be witnessed in its natural state before it condemns under extreme pastry mutations.
Actually, it turned out pretty good. Pie was gone before there was any chance to share photo evidence (burp!).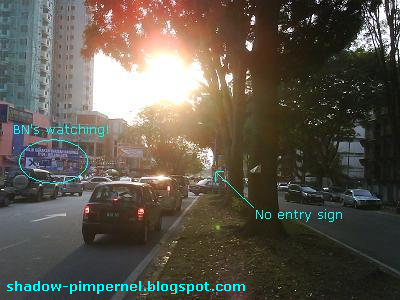 6pm: At Kelana Jaya. Click photo for 800 by 600 pixel image.
Okay, I said I didn't go to school yesterday. Well, not completely. I didn't enter the workstation compound, just needed to drop a package of nicely printed paper about the merits of virtual reality into the IT faculty pigeon box. I had parked in the residential area and it was a pain trying to get back to it, mostly because the damn cars kept making U-turns where they aren't supposed to be making U-turns and I couldn't cross to the other side.
In irritation, I photographed a row of organized disobedience. Some of them were kind enough to signal their U-turn before they break the law. Click the photo for a bigger picture.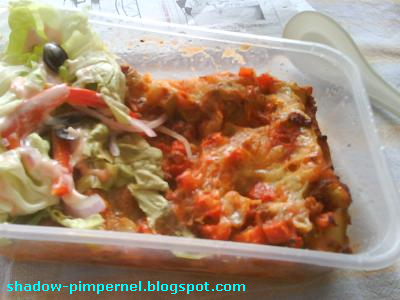 7pm: At home... Again
Previously I've mentioned that there's a shiny new faculty that had opened at school with their shiny new kitchenware. To complete this illusion of grandeur, there's also a shiny new café, complete with indoor plants and wooden furniture.
The food, however, is better left to the imagination. This is a lasagne set that costs about RM$4.50. It's a bargain but then again, you stomach what you paid for. It's nice but it needs Ajinomoto. I'm not going to completely diss my school's first attempt at the canteen business however. I'm going to try the cheeseburger next, maybe that'll go down better (with a litre of Coca-Cola maybe).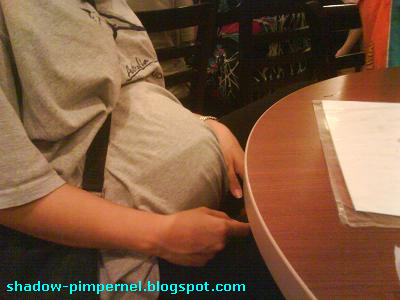 8pm: At Santai Restaurant in Muatira Damansara...
Hehehe, okay, taking photos of a pregnant lady due in May would probabaly not be under the merits of sisterly love but I just wants to show the person who's been eating most of the mushroom steak MySis ordered. Just confirmed the gender; a little brother for BabyNabil. No name yet but it'll probably start with the letter 'N'.
The family tried the Santai Restaurant yesterday, taking all the western stuff. The portions are big, we're practically stuffed and our bellies were round. But the next time, I'll go with the black pepper (mushroom was too tame, me thinks).
So some 15 hours after the last photo was taken, here I am, back at school. My next 24 hours (though with or without pictures is yet uncertain) would be
-finishing up that homework report,
-giving Host Café's cheeseburger a try,
-checking car for anymore essence of avian menace,
-going back to Ikano to sneak-buy that paperback (Ayah hates me reading storybooks; they're the bane of my CGPA)
-gather every available coins in all the couches in the house.
Now I really, reeeeeeeaally wish I'm a PC-hog.