The Woman

My name is Celine and I am a prostitute. I come from a poor but large family in the east coast and I came to Kuala Lumpur to become a sales promoter. But the pay is low, only about RM$700 and I have to send half of that to my family. But I like a luxurious lifestyle.

I got into this job with my boyfriend's help. He needed money. So I got hired in this nightclub in Bukit Bintang. My contract says waitress, but the real work starts after midnight, when the customers are too drunk to drive home. I can make about RM$30 a night, RM$150 on VIP nights.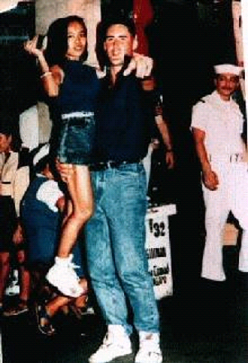 I dream of buying my own car and eating in hotels. But my boyfriend took most of my money and urged me to work more often. It's tiresome really, to perform almost every night. The nightclub where I work always wanted newer, younger girls, some as young as fifteen. The customers always prefer younger girls.
That's when I broke up with my boyfriend and quit the nightclub. This job ages a woman too quickly. A lot of these customers were rough handlers. They don't respect you, just as I don't respect my body. I manage to protect myself from disease so far and I have had two abortions.
I'm 25 now and too old to continue here. I plan on working overseas. The foreigners like Asian girls, a dream of the exotic. My former boss says that he could get me a passport to go to Thailand. From there, he could make arrangements to send me anywhere. New York, London, maybe even Amsterdam.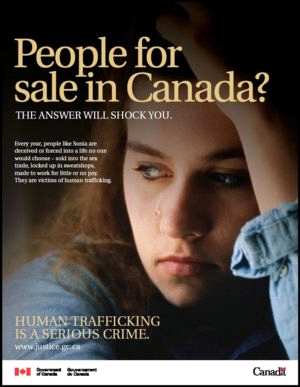 I've told my family not to worry. I told them that I was getting promoted and that I'll contact them as soon as I reach my destination. They never knew about my night-job, as I didn't want to hurt their feelings. It really is difficult to get out of this life once you started.
There are three strata of prostitutes. Within the top layer rests discrete call-girls for the affluent. The middle layer holds bordello-dwelling prostitutes or others in less subtle environments such as strip clubs and massage parlors that offer backroom services. Streetwalkers (harlots, hookers, nightwalkers, ...) occupy the lowest layer.

Source: http://www.liberator.net/articles/prostitution.html (2005) Mark Liberator, accessed Jun 2007
The Others
My name is Chanti. I am a fifty years old and I used to be a housewife. My life has been affected by prostitution. My husband and I were married for 23 years and had been blessed with children. Like any couple, we do have occasional disagreements but nothing serious. Our marriage was solid and stable.
Then my husband started traveling alone more often. He said he was taking mini vacations, traveling alone, to relieve some work stress. I was suspicious but I did not object. It turns out that his mini vacations were too expensive. His savings were running out and I would not let him withdraw from our joint account. That's when his mini vacations stopped and our nightmare began.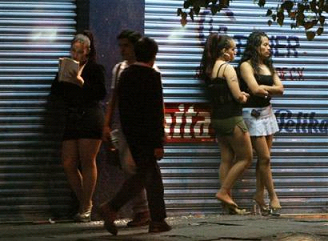 My eldest son is a good man, hard-working and honest. He works as a clerk in KL and sometimes comes home late. While driving near Jalan Imbi, he quietly told me that he and his co-workers saw his father, my husband, carousing in the streets with young girls. I feared the worse and quickly gathered my children and my belongings and left the house to stay with my parents.
But the worse came when I started to fall sick. I develop a cough and doctors told me that I have an ailment of the lungs, a side-effect of a declining immune system. I sought further advice from the doctors and they confirmed my worse fears. I am HIV positive.
Today, I have a weak heart and some difficulty in breathing when I do strenuous activity. The cost of medicine to keep me healthy is very, very expensive especially now that I must provide for my family. My daughter will drop-out from school next year to look for a job to earn a little more so that my younger children could stay in school.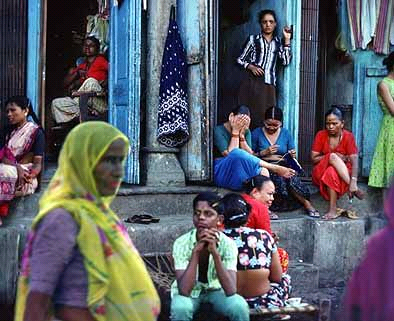 My family is broken. My son has been shamed in front of his co-workers, my daughter's future is uncertain and I kept my younger children in the dark about their father. I am living off my parents' pension to buy medicine. Of my husband, the last I've heard of him was several months ago, that he was caught in a police raid near Lorong Haji Taib.
It hurts the woman, it hurts the children; that is an exploitative situation,. If prostitution is legal it affords men the 'excuse' to go find sex outside of marriage, when things in the marriage are difficult. That does nothing to enhance the relationship between a man and a woman.

[Prostitution] runs opposite to what relationships are supposed to be. Intimacy and love are not involved; it's just a purely physical act. It lowers both people to the lowest common denominator."

Source: http://www.prostitutionprocon.org/questions/marriage.htm (2006) Dave Quist, accessed 2007
The Effect
My name is John Hill. I am single and employed. I have financial and social security. I am close to my family and have many friends. I am able to provide for myself and for my parents back in the kampong. And I visit prostitutes every now and then.
I don't call them prostitutes. I call them ladies. I don't go to a brothel. I've tried them but I always fear getting caught in a police raid. Nowdays I sought an exclusive escort service. I would choose a girl from the 'manager' and he contacts the girl. She would dress-up looking very pretty and take me to a restaurant and later to a hotel room. I paid for everything.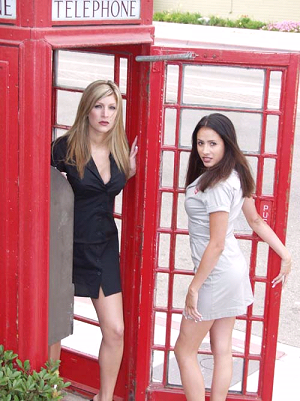 Back then, I didn't get all about the fuss. These ladies are working by choice. It's just business between strangers. They provide, I accept. Call me mindset or in moral-denial but Malaysian would prefer legalizing prostitution. It's the oldest profession in the world anyway. Of course, I didn't tell anybody I visit these ladies.
But I was shocked when, out of the blue, a crying baby was deposited on my doorstep. With the baby was a newspaper article, with a picture of a bruised and battered very young girl. She was caught trying to dispose a dead fetus into a river. She also confessed that the baby had a twin and she gave it up to her boss in exchange for her passport.
I still don't believe it. I confess that I knew the girl. Her name was Helen. But I didn't know she was fifteen years old. For now, I'm at a lost. Should I give the baby up for adoption? Should I confess to my family and ask them for help? Should I try to contact Helen?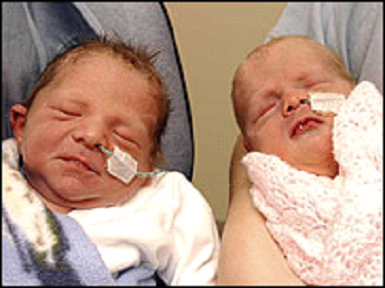 The baby is still with me, being cared by a hired maid for now, still kept hidden. She is becoming healthier everyday but every time I looked at her, I see her mother. I see her mother first as a glittering escort girl and then all too quickly, I am haunted by her mother's battered and lost eyes.
Image Resources:
http://www.google.com.my
http://gvnet.com/humantrafficking/00-Graphics.htm
http://www.fotosearch.com/photos-images/child-abuse.html