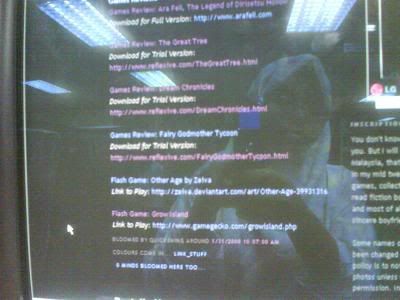 Really, you can just read my Blogger Profile if you're the curious sort. I have 105 views on it and growing so another unique hit is nothing... well, unique.
But if you really want to know more about me, be forewarned; I tend to give too much information.
My physical traits
At the risk of how digital pictures can be stolen and misused, it's my policy not to post individual photos of my friends or my families and identifying their characteristics online. Not unless I have their permission. After all, their faces, their identities, make my photos of them as their photos too.
Same goes for me so you'll just have to
imagine
what I look like. And I'm not going to Photoshop my description either.
I'M FAT.
Well, that's taken care of. I'm actually about 55-60kg and exactly 157cm at the time of writing. So I'm pretty tall for a female Malay girl in her mid-twenties; I can look over the heads of Malay girls and most men. Much of the weight is in the bones, I'm quite broad shouldered and long-legged. My tailor said I have a high-waist, whatever that means.
But I'm not slender build - did I mentioned I was fat? - kind of plump in all the woman's places and sadly, my stomach is a bit round as well. I have a waist, but it's not as visible as I liked. To put it in TV fashion terms, I have ruler shaped body.
Other than the gene pool, I was quite a tomboy growing up; Teakwondo and running sports. I figured out early in childhood that I'll never be as pretty as my elder sister and my big family shall always compare me to her and all my female cousins.
So I even today I forgo cosmetics; hardly even wear make-up, hardly have a reason to anyway. Doesn't really help my round face and my round nose, of course. I have only one skirt - real skirt - and one pair of pumps amidst a multitude of pants, shirts and sneakers. I do have some vanity though. Like laced and beaded 'kebaya' dresses and subtle coloured 'kurung' dresses. All dresses are formal wear, yeah.
I guess my best physical asset would be my hair. I grew up having really short hair, like a motorbike helmet. Now it's hell of a length, reaching to my hips. This reason why I kept long hair is that I hadn't bothered to go to a hairdresser in 6 years and I flatly refuse to let my mother near me with scissors (really bad experience).
Kind of redundant to have long hair because I prefer to wear headscraves anyway.
A few of my favourite things
Favourite books, favourite music, favourite food - you can just read these in my Blogger Profile so don't let me go
Sound of Music
on you. Instead, I just describe why I like these things. Really a description of my personality of sort.
Let's start with
I'M A HOPELESS ROMANTIC
.
Pathetic isn't it? All those tomboyish-ness had rendered me to a sensitive pile of ooze when it comes to fantasy and romance. Or fantastic romance. Or romantic fantasy. Whichever way, if you look for me in a bookstore I can spend hours in two places; Romance and Fantasy.
When it comes to movies though, I
hate
romance. That's because movies tend to overdo things with all that slow kissing and orchestral music and (God forbid!) sarcastic humour. But there are some exceptional romantic movie I like, like
Pride and Prejudice
(truthful to the book, yay!).
What I really like in movies are fantasy (of course!), sci-fi, action and mystery, like the
Bourne
series or
Lord of the Rings
movies or my new love,
Transformers
. Horror, comedy and animation... err, not so much. Particularly horror. I'm kind of sensitive to fear, I get scared easily.
One time, on Astro's Hallmark channel, I watched both movies of Stephen King's
Rose Red
. It's about a haunted house with roaming white mists that makes people have unexplained accidents or disappears completely. After that, I hadn't been able to walk into a dark room at night for two weeks. In my own house.
Music has no particular preference in me, as long as it's got a good beat and I can play it in my car and computer. I don't have a particularly favourite music artist because I prefer the music itself than to be enamoured about the artist making it. Little bit of rock, a little bit of R&B, a little bit of soul, a dash of rap, a pinch of hip-hop; that's me.
But if I were to make a choice on a person or a group, it's a tie between Linkin Park and Bon Jovi. Go figure.
As for food...
Fooooooooooooooooooooooood...
If it's on my plate, I'll try eating it. Besides that, I prefer bread or potatoes over rice or pasta and prefer beef as meat of choice. I rather like spicy food and I can really go for any kind of soups and stews. Cakes and pastries are okay to snack on but fruits are my preferred snacks. If there is chocolate, stay the hell out of my way.
What I want
.
Get degree.
Get job.
Get out of house.
Nuff' said.