-Student Log-
Time: Wednesday, 1.00am
Location: At the PC, my bedroom.

Redoing Project Paper 2 Part 1. Some bad last minute decisions. Had been working for 5 hours straight. Decided to finally hit the sack. Parents are coming home from their round the Turkey nation trip and I can't enjoy imported cheese while feeling like a piano had dropped on me.

-Student Log-
Time: Wednesday, 2.30am
Location: Still in my bedroom. Guess where I was.

Can't sleep. Got up and made finally Data Flow diagrams and Flow Chart diagrams for project.

-Student Log-
Time: Wednesday, 6.25am
Location: Doing the Slinky in my bedroom.

Freakingly overslept. Cursed very nice but stupid dreams (sheep riding round-and-round the Ferris wheel). Proceed to go downstairs to turn off house alarm and back porch lights. 13-year cat Patchy had stayed indoors that night. His bladder must have failed. Cleaned smelly corner of the house. Other than that, fed both cats and the koi pond fishes.

-Student Log-
Time: Wednesday, 7.30am
Location: At the PC, my bedroom. Again.

Had a bath and forgo breakfast. Time is of the essence. Managed to complete System Design report but have small idea how to do Multimedia Requirement Analysis. Whoever made that project guideline ought to be shot and I want to be the frustrated student who does it.

-Student Log-
Time: Wednesday, 8.00am
Location: Downstairs in the living room.

MySis came over with the maid, the baby nephew and more importantly, the MyVi car with a full tank of petrol. Finally, something was done on time. Noted to the maid of the smelly corner of the house.

-Student Log-
Time: Wednesday, 10.00am
Location: At the PC, my bedroom. Also again.

Had a call from Mak. They've just arrived in KLIA and Abang Arsenal is picking them up. Too bad I can't go but I still need to do comparisons table on authoring tools (the software used to build other softwares). Then realized that I freaking don't have screenshots of either tools and would have to search online.

-Student Log-
Time: Wednesday, 12.00pm
Location: At the kitchen.

Parents are home from Turkey, yay! For souvenirs, they brought a huge meaty chicken salami (Malaysian salami are wimps and no, that's not a sexual innuendo) and also got that salty, earthly imported cheese I wanted. Would have immediately go on a sandwich making frenzy but there's no bread and I still have Appendix report to finish.

-Student Log-
Time: Wednesday, 12.30pm
Location: My bedroom. Oh, look! A PC!

Finally finished! Ate some Kisses chocolates and M&Ms for sugar boost. Still need to find the authoring tools' screenshot from the Internet, edit the Table of Contents, print the 40+ pages out in 2 colour copies and secure them in green binding plastic. It's the last bit that worries me because who the freaking hell makes GREEN blinding plastic?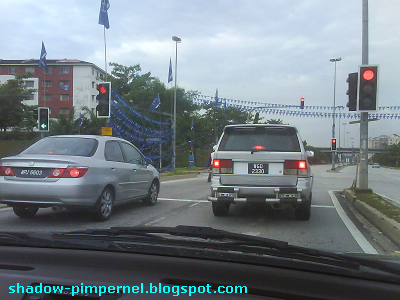 On the road to school for extra work. They should really take down these BN election banners already.
-Student Log-
Time: Wednesday, 1.00pm
Location: At school. At the PC. My life is dead.
Discovered that the online messengers Meebo.com and Ebuddy.com both had been fire walled by school (crapcrapcrapcrap). Currently using IloveIM.com for MSN account. Hope it lasts. Wanted to go to blog, at least to click ads but running out of time. Saved by Wikipedia and found those tools' interface screenshots.
-Student Log-
Time: Wednesday, 2.15pm
Location: Leaving school. Ironic because I'll need to come back here later.
Report officially completed. Now need to print them out into professionally looking books. Uploaded files into Mediafire.com account since I don't know if my thumb drive got virus or not and don't want to infect printing PCs (and screw up the documents). But I need to look for green plastic binder. Checked bookstore at Giant. Nothing. Checked Giant hypermarket itself. Also got nothing.
-Student Log-
Time: Wednesday, 3.00pm
Location: At Ikano Power Centre.
Still looking for green plastic binder. It's stupid report documentation but needs to separate it from other courses (got blue, red and black report binding as well).
Went to Popular bookstore: No green plastic binder.
Borders bookstore: No green plastic binder.
MPH bookstore: No green plastic binder.
Tesco hypermarket: Surprise! No green plastic binder. But got nice cool 100+ drink.
Hadn't had this much walking workout since my Red Crescent camping days as section leader. Too busy to almost forgot to take camera photos of the 10,000-Billion kilometres worth of walking I did.
Some fellas were doing some maintenance work on the fountain.
-Student Log-
Time: Wednesday, 4.15pm
Location: Time's up! At the printing store.
Phone alarm went off. Must send in report ASAPossibly-Freaking-Quick. Printing lots of paper takes time and school's report collecting is at early evening. Took a chance and decided to use black plastic binder. Went to favourite printing shop and gave download link so that they can print out my report. Going nice and smooth, decided to go home and be impressed with Mak and Ayah's traveling tales.
-Student Log-
Time: Wednesday, 5.15pm
Location: At home. Not in my bedroom, thank you very much.
Parents bored that I was driving around with schoolwork and not enjoying their Middle East souvenirs. Managed to allocate one hour sitting around with baby nephew and listening to how snow in Iran's mountains are so soft. Convinced Ayah that no fish had died in his absence and that the crooked metal curtain blinds in the kitchen wasn't my fault (stray yellow cat snuck in the house and banged his face to the kitchen blinds. Really).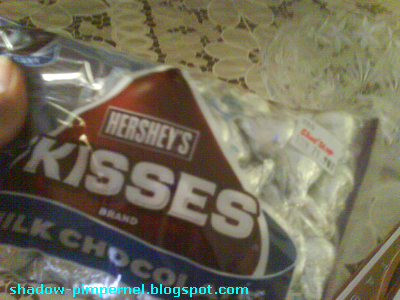 Yaaaay! I also got chocolate Kisses!
-Student Log-
Time: Wednesday, 5.45pm
Location: In the car, going to
another
printing shop.
F**king favourite printing shop not my favourite anymore. They screwed up the colour pictures and now all my screenshots and colour diagrams looked like it's been splattered by some digital rotten tomato (too much red). Paid only for the black and white printing. Went to the more expensive shop. Had to withdraw the last RM50 from ATM machine
*sob!*-Student Log-
Time: Wednesday, 6.15pm
Location: Back to school. Typical.
Driving to school in the late evening hour. Lebuhraya Damansara-Puchong is nicely empty because I'm the only driver who needs to go to work in the evening (the road on the other side looked like a long car park). With me are two very nice clean and crisp copies of my project report, about 40+ pages each, worth a big chunk of my semester grades.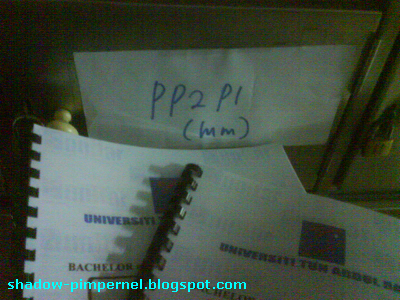 Multimedia Majoring. Into the slot they go.
And that's only my second day on 'that bloody time of the month'. This Friday, I plan to add 3 liters of Coca-cola and other caffeine drinks just to see if I can make jumping jacks while doing Java programming.
Damn hormones...