This is going to be a very quick images entry, possible for the next weekend. You see, it's the semester's crunch hour. I don't think I can be blogging around for a while, maybe for 2 weeks, more or less. Need to catch up on a few hundred tasks I've put off.

Maybe once in a while I might drop a note or two, not as long as I always do though. Even right now, having a few bits and pieces to adjust, sneaking in a sentence or two. Hope you don't mind my missing hours.

When I get free time, I'll get a more meaningful entry going, a discussion or two, maybe even a new game review and an updated slide show for month of April.


Chambers by ZoranC
Oooo, this just screams Alien movies. And futuristic Japanese anime. And every other sci-fi themes tales while creepy poison colored ante-chambers nobody is allowed to know about.
Haha, can't help it if I like scenes that looks something like a reject on the
Halo
games series. Blending both sci-fi and fantasy ideas (aptly known as sci-fantasy) is one of my favourite ways to dream about. It's outrageous bordering on the ridiculous but it's my idea and few folks have it.
Rail Haven by Marco Rolandi
Found this art in CGSociety.com. The artist had imagined a broken civilization of which people traveled the world across vast sea-swamps leftover after the oceans had been so polluted and drained into the earth's cracks. Cool scheme, I had imagined a drained world as opposed to the floods of Noah's Ark in one of my story ideas.
The Rescue by
designnrg
It's kind of dark to see (had to adjust me settings and turn off the lights) but the composition is quite detailed to study. Almost every kind of flammable disaster is portrayed but the really nice scenes are at the top and bottom of the picture; the ship on a mission at the bottom and the twin speeding flyers on a star-night backdrop.
It's almost as if it's two images linked into one pictorial narrative. Check out the artist Deviantart website for more landscape art.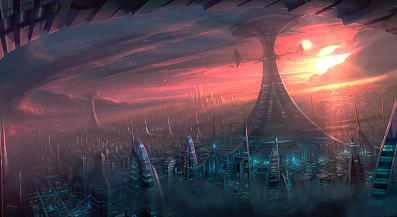 Raevona - Docking Towers by
Antifan-Real
Saving the very best for last. The artist called this skyline scene of a city as Revona's docking towers. This picture is currently the backdrop for my desktop picture. If these are just the docking towers, I wonder what's the business capital is covered in. More colourful landscape art in his website, too.
PS: Will be posting a few random back-up entries from time to time. See you guy in... as soon as I'm done! Aiyo, banyak kerja-lar…
*bleh!*