Either you're a regular reader or a newbie; I usually take some time to play around with Reflexive Arcade games I've downloaded and cracked to full version. It'll be a hypocrite of me to say that I don't enjoy free full versions (and I rather be an ass than a hypocrite) but I do try to give reviews.

Unfortunately for Flex, that's not today's review. I've played a couple of games recently, thinking they might be a nice-to-try; Oberon Media's Home Sweet Home and Big Fish Games's Azada.

The former game bored me to death. It's just a continuous repetition of nothing but furniture arrangements, like a shrunken version of the designers' same damn The Sims's homeowner. Fish tank here, couch there, include hardwood floor. Then command minions to work and feed them steroid-filled coffee. Repeat until nauseous. Sad to say, I never bothered to finish it.

The other game was far nicer, both visually and in its gameplay. I would have been more enthusiastic and very much made a real game review if I hadn't been Dream Chronicles' corrupted. Dream Chronicles had a better storyline (which is not really saying anything) but Azada's storyline is might as well been written from book. Literally, if you get what I mean.

Still, I really recommend Azada if you love visually stimulating imagery and a variety of puzzle-solving (as usually, ask me nicely if you want crack versions).

Since I couldn't find a new game on the market that's inspiring enough, I've decided to look the Old PC Folder of mine and bring out the old game that had knocked the love of RPG Makers software in me.


Ara Fell: The Legend of Dirisetsu Hollow
Hah! Man, is this game old. As in two years old. Hey, it's still kind of old. Sort of.
Back in the days when Windows Vista was still a byword, Ara Fell ruled the GamingW.net forums, grabbing Misao Awards like... well, like misao take-outs at a midnight Asian restaurant. I was a wee IT student, much less a programmer, looking for excuses not to play homework with Photoshop 5.0. It wasn't just the sprite artwork that caught my eye (though that did cross my mind) but it was more of a combination of art, gameplay, audio, the whole nine yards in cheap games.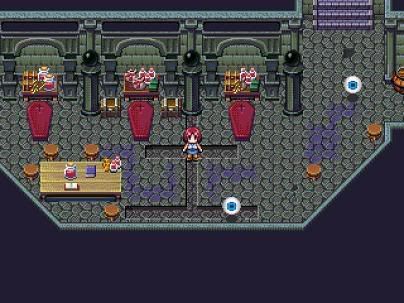 The game uses 99% REFMAP sprites.
Image by Badluck
The author, Badluck, had taken a new level of graphic effects, map design and storyboarding. Thanks to him and his editing, REFMAP sets had been elevated from the 'cliché' status and back to 'stylish'. And sad to say, I've been spoiled into REFMAP sprites as well (hehehehe!).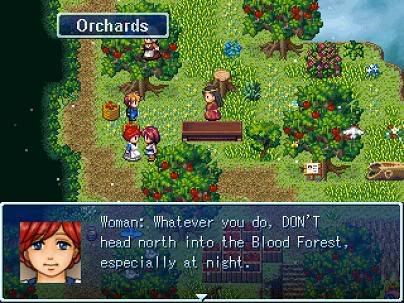 What if I take off my shoes and wipe my feet first?
Image by Badluck
The story follows in the adventures of Lita LeCotta, a simple village girl going for her big chance at the archery contest. But then a friend's discovery of a cursed ring and secret emissaries from a holy church come into play. Suddenly, Lita found herself as the only person on her floating homeland who could help save two races of people against vampires... and an even greater threat.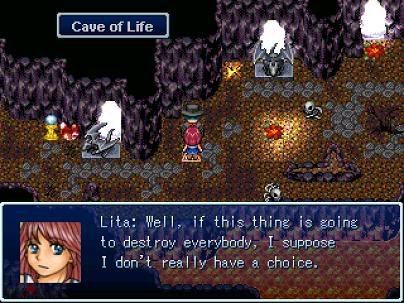 Can't I just call the police or something?
Image by Badluck
Just as in many console style RPG-games, the gameplay allows your main character to bring along some fighters of various battle classes. You gain experience points and monetary rewards by battle map monsters (which are visible on the terrain so you are able to avoid them if you're not ready or too weak for combat).
Your trick is to solve the quests by exploring the world and follow clues of the story. Such as, if ghost's necklace is giving you trouble, you have to rescue the ghost himself in order to take it off. If you need to proceed beyond the gates, answer the Earth Spirit's riddles.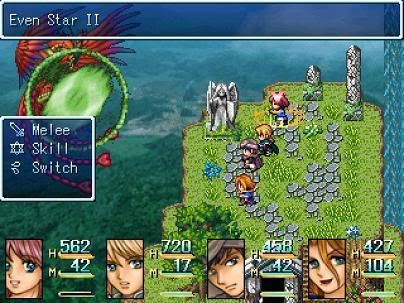 Stupid bird...
Image by Badluck
Of course, then there's the basic combat stance which you have to confront since these monster have no sense of negotiations. Field monsters can be avoided but occasionally you get guardians, enemies, vengeful spirits, etc, etc and so your tactical thinking get to have some exercise. My tip here is to better power-up with your upgrade and defensive spells before going offense and some of the monsters are
tough
!
A game like this does leave a pretty good impression on an intuitive but lacklustre kid. I got me my own set of RM2K3 and REFMAP sprites and got started on my first game.
But that didn't work out so I restarted and made a better project called Unlocking Pandora, which is still an ongoing process.
The best part about
Ara Fell
is because it's free to play. Like various members of GamingW.net, the only reward is fame and inspiration. As compared to Reflexive Arcade games and other newer, more high-tech RPG games,
Ara Fell
ranks pretty low and simplistic. But hey, you get what you pay for.
Unless you know how to crack.
PS: Free downloads for this full game can be found in Ara Fell Website. If you want the god-mode cheating version, ask me nicely.