Full Games Review: Celestial Destroyer Online (3D MMORPG)


Shadow Pimpernel's longest and most extensive games review yet! I was playing so much at office that my boss made me write a report.



*****
Other than being able to blog again, having a readily accessible connection to cyberspace that does not include a nanny-firewall (but I still can't access YouTube though) means that I get to try out neat stuff which I had never tried out before but had always, ALWAYS wanted to and was ashamed to call myself a game enthusiast since I've never tried it before.
I'm yapping about the great leap from stand-alone system to the client server network... 3D MMORPG.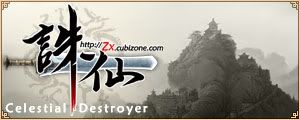 Celestial Destroyer
I had never played any kind of adventure games on a network before. There were 3 strikes against me; original software, technical capabilities and internet connection. The former is what I can't afford, the middle is what I can't afford to have and the latter is what I can't afford to have all the time.
And today, I still don't have any of the damned 3. But since everyone around me is so generous to be taken advantage of, I finally became a proud member of the worldwide culture that young parents would rather let their babies starve of food than miss out on that "limited-time-only-magic yo-yo with super one-hit kill" (available with assorted power-ups; extra boost against ogres and politicians).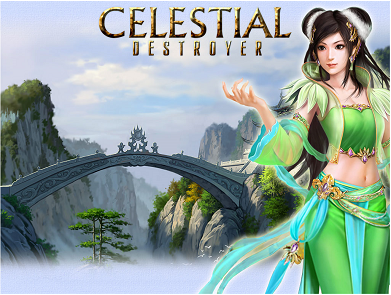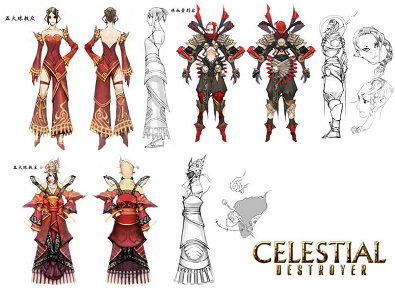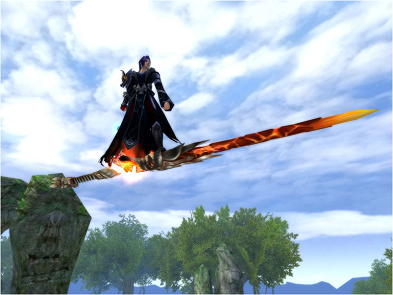 Screenies from the main website.
Yeah, it's obviously the background art and 3D visuals that had captured me. As most 3D RPG goes, this is not as spectacular in the mind of a veteran (and I've been many times the cheerleader behind the plastic seats of many cyber-café veterans) but I feel that this game can really stand on its own right.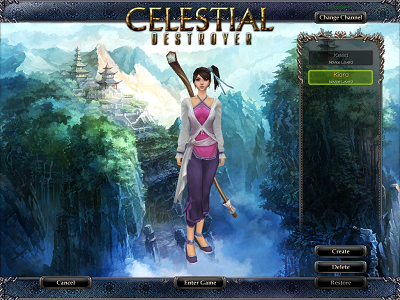 Damn, my character is sexy.
It's not a games review here, but rather, just showing an excuse what I'm doing when I'm not working on flying camera angles on my own system (more on that later, someday) and when I should be making reading rounds to my old bloggers' blog. Don't worry; I'm not an addict (yet). Pretty much, when I play RPG in my stand-alone (like Dungeon Siege 2, waaaaaaaay back), my habit is taking the Grandma's Guide for Leveling Up RPG Characters (guarantee not to break your hips).
After taking the most basic of basic requirement quests, I would look for a low-level monster...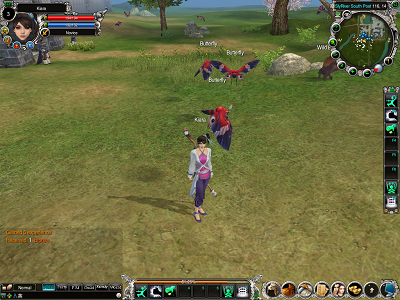 Aww, a butterfly...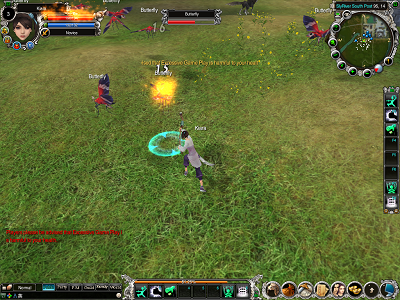 Go to hell, you F-ing butterfly!!!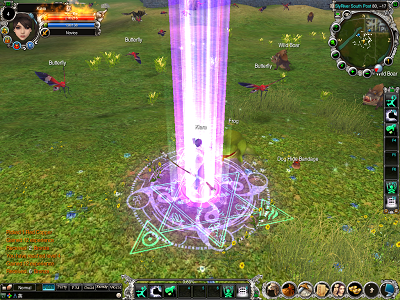 Upgrade complete.
And I would probably do this all the way until level 20+ or I succumb to melting pulp to a cheats' trainer, which ever comes first. Tell ya the truth, I'm freaking scared of quests, any type of quests, especially the boss battles that without a very high-level character, they are usually 999x tougher to kill (but oh, so visually bad-ass). It's just that I go by the principle that running away and not getting hurt can also be considered a "smart" move (I'm not a hack-and-slash tank machine; I'm a hit-and-run yella-clucking chicken).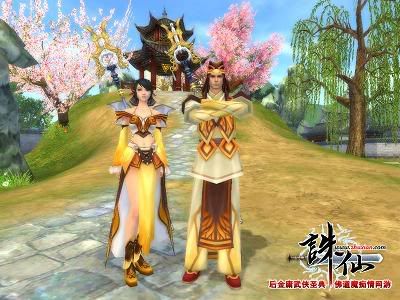 My dream clan to be in the healers' category. Cos they're yellow.
Which, coming back at my old-lady style of beat-'em-up. At the rate of my play-time hours, about 6 hours a week (hey, I
DO
work!), I probably hit my I'm-not-scared-anymore target character-level by the end of my internship.
Bleeeeah, I'm just exaggerating (hehehe!). Who knows? I might take a bite at a major quest sooner than later. Hey, c'mon! It's my freaking first online RPG. Although the game can have the players get resurrected in the nearest town after any death situation, there's not reason to rush what I can experience at my own pace.
Thus, why I say this isn't a games review but rather, just a tit bit of somethin' that's related to games since it's just soooooooo
me
(this is a blog, remember?).
Celestial Destroyer
is completely free to download, to install and to play. You can download the English version files (a pretty big 1.15 GBytes) at the
Downloads Page
at their main website. The game had just been upgraded to open beta by now and you can still order your free games DVDs until January 19th.
If you're looking for me, I'm usually in the zone, around 9am (GMT+8) for only an hour on weekdays, but more-or-less for 3 hours on Saturday mornings.
Just ask for the master ass-whopping butterfly-killer.