Mak's food fest continues. I think she's trying to experiment a few recipes she took from Astro's AFC channel, especially now that she knows 3 of her sisters takes food ideas from the TV too.

Of course, there are times when the meaning of family means being test-dummies for bizarre experiments (I'm still gagging on her beef quiche). But often, some recipes work well.

Here's one of my favourites chicken recipes.

Ingredients:
A whole bird, cut into quarters
Some salt and pepper
A good amount of paprika and chilli powder
Some all-purpose flour
Some butter
1/2 cup of oil
Some hot water
A whole onion, sliced
Potatoes (only as much as you can eat)

1. Firstly is to marinate the chicken quarters. Mix in all the salt, pepper, paprika and chilli powder and rub all those spices on the meat until they're covered completely. Leave that in the fridge for at least 6 hours.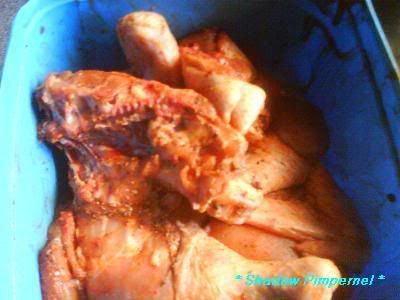 Look, Ma! I'm marinating.
2. With the potatoes, peel off the skins and cut into chunks. Then dump the potatoes into a saucepan full of water and bring it to boil.
3. Take the marinated chicken out of the fridge and then coat them with a layer of flour. This will give it a nice, fried, golden brown colour.
4. Heat the oil in another pan until quite hot. Then fry the chicken quarters.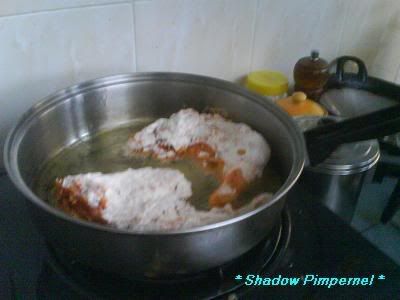 Don't fry all of the chicken at once. Other wise the oil will cool and lose heat and it takes even longer to get cooked.
5. Keep cooking the chicken until it has a nice, fried, golden brown colour. If your chicken quarters are big and you're not sure if they're fully cooked, you can put them in the microwave heat. Use High and for about 2 minutes at least.
6. What's left on the pan are the oil and spices residue. This will turn into gravy. Turn the heat low and add a bit of hot water (hot water prevents gravy from cooling) and stir. Add flour to make it thick, add water to make it thin. You can also add the rest of the marinating spices for more flavour.
7. When the gravy is consistently mixed, add in all the onions. Keep frying until the onions had turned soft.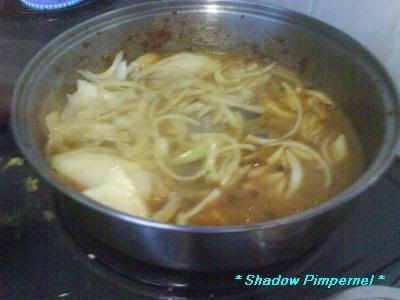 Mm-mmm, looks like a witches' brew...
8. Once done with the chicken and onion gravy, your potatoes should have done boiling and be soft enough for mashing. Take the potatoes off the heat and drain the water out.
9. Add butter, a bit of salt and some pepper to the potatoes. Mix and mash them (for extra smooth potatoes, add some sour cream).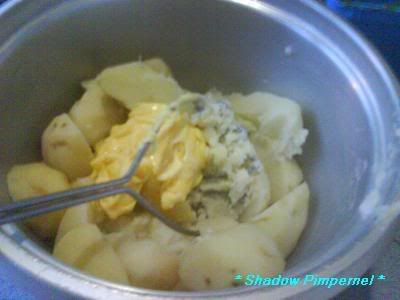 Here's some hard-knock smashing. You can use a wooden fork or the bottom end of a plastic cup but I got this special potato masher from Ikea.
10. And then you're done! Serve the fried chicken, onion gravy and mashed potatoes with steamed vegetables of your choice (Mak always serve Western cooking with steamed broccoli, carrots and cabbage).
Personally, what I like great about this recipe is how the onion gravy can be eaten with the mashed potatoes, quite a different combination of taste.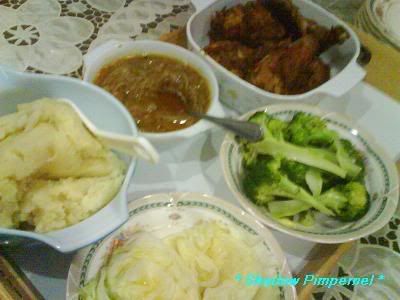 EAT!!!