This is a pretty easy recipe to make and doesn't take an hour to cook; but there's a whole lot of activity going on. You got to fry the meat, boil the pasta and then bake the casserole. But I tell ya it's delicious! If you're on a diet, stay away from this picture-filled message.

This is a warning; you'll gain kilograms while you're reading this.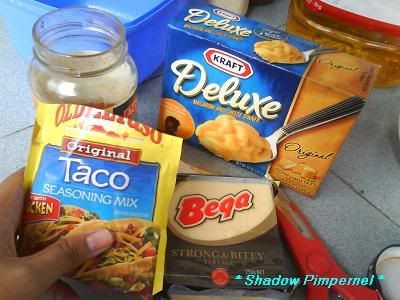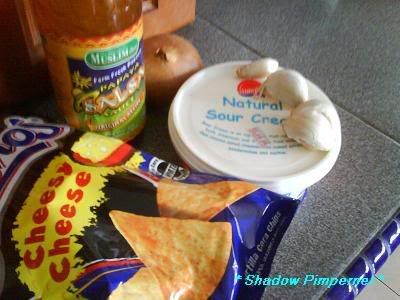 Ingredients:
1 whole large onion, finely chopped
A few cloves of garlic, also chopped
Some paprika powder or chili powder (optional)
1 bottle of salsa
1 brick of cheddar cheese, shredded
Some Sunglo sour cream (I got mine at Giant hypermarket)
1 packet of Ramly brand frozen minced meat (400grams, beef or chicken)
1 packet of Old El Paso Taco Seasoning mix (found at Giant hypermarket or Cold Storage)
1 Kraft's Deluxe Macaroni n' Cheese dinner (bought at Cold Storage)
1 medium-sized bag of Chachos corn chips
*Note: make sure the frozen minced meat had defrosted into room temperature; otherwise you'll get meat lumps when you fry 'em.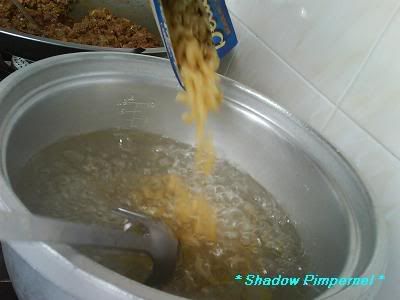 Heat a pot of water until it boils. Then add the macaroni pasta as this one takes the longest to cook.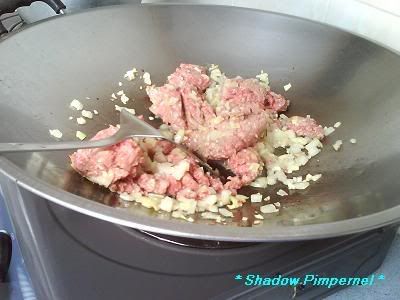 Fry those chopped onions and garlic until soft and fragrant, then add the minced meat.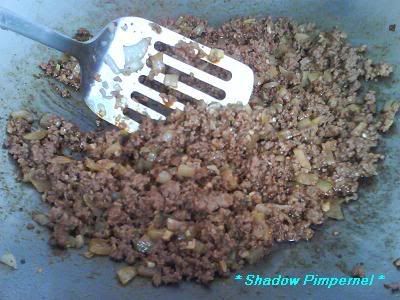 When the meat is half cooked, add in the Old El Paso Taco Seasoning mix. Keep frying until the meat is cooked, then take it off the heat and let it cool in the wok.
*Note: You can also add a little bit of chili powder or paprika powder as well to make it spicier.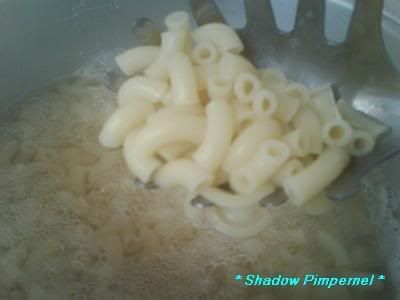 The pasta would have been cooked right about then. It should be white and soft but firm, not mushy because otherwise they'll break to pieces after baking.
*Note: Now you should preheat your microwave oven to 180'Celcius to get ready for baking.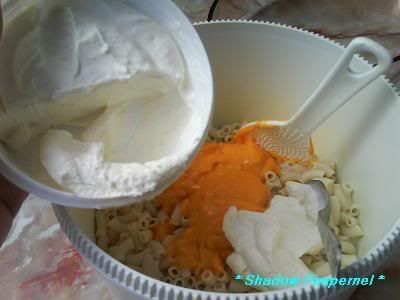 Drain the pasta and while still steaming, pour 'em into a mixing bowl. Add all the Kraft's cheese sauce and about a cup of the sour cream.

After mixing them well, add ONLY HALF (yes, just half) of the macaroni mix into a casserole dish. Then add a layer of the spicy minced meat. Using ONLY HALF of the shredded cheddar cheese, add a layer of it OVER that meat layer.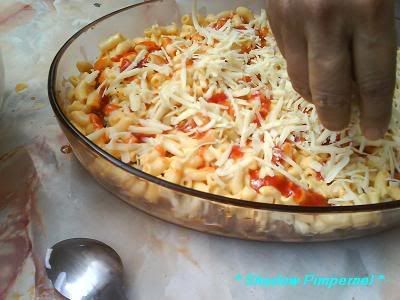 Add all the remaining macaroni mix over all that. Add a thin layer of salsa sauce over the casserole for taste. With the remaining shredded cheese, divide it into HALF and use just one half to spread a layer over the casserole.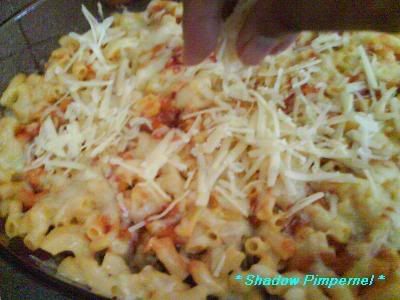 Bake the casserole for just 15 minutes. Add the rest of the cheddar cheese, then bake a little while longer for only 5 minutes.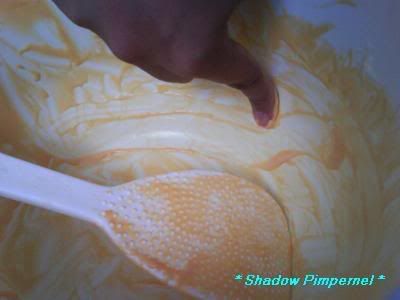 You can lick the cheesy mixing spoon while you wait. Mm-mmm...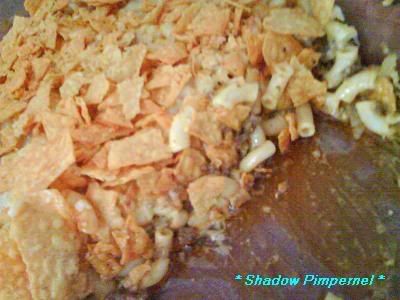 Once done, crush the Chachos corn chips and spread 'em all over the casserole.
Now eaaaaaaaaaaaaattt!! This recipe feeds 6 people; it's very filling. I really wish you could smell the spicy taco mince meat cos it's really great. The touch of the salsa sauce alongside the saltiness of the cheese sauce melting on your mouth is just soooooo good. Chewy macaroni pasta and crunchy corn chips-, not saying anything more.
My folks always have this dish with a side of fresh, tossed salad drenched in thousand-island sauce. Other having a nutritional, balanced diet (Mak's a food pyramid freak), the mix of tomatoes and lettuce leaves just seem to work superbly, sort-of like, it refreshes your taste buds as you eat.
Why am I writing this? Because I've decided that it was absolutely futile to stick to my New Year's Resolution, that's why.
Spread the cheesy love...