Courtesy of a tag from the dynamic duo, twosuperheroes, I have been de-evolutionized into primitive user.

Me Quickening. Hear me grunt. See me ping blog. Me get blog tag.


"We've heard that a million monkeys at a keyboard could produce the Complete Works of Shakespeare; now, thanks to the Internet, we know this is not true." -Robert Wilensky-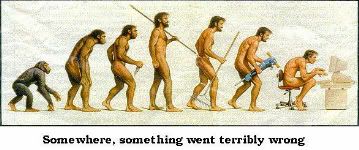 Hahaha. It did get me do more surfing. I was looking for 4 serious,
new
bloggers who potentially have not yet been tagged by this menace. And thus, I sneeze on your blogs.
Fly Over Me
: Because I've yet to catch you in person!
Raising Mercury's Negative Negative Positive
: Because I keep catching you in this blog!
Adino Online
: Because your dear wife needs more publicity!
Satkuru.com
: Because I like
your
pubilcity!
These infected bloggers are under no obligation whatsoever to infect other bloggers. This is just to say I like your pages and that your names are not in the Unsaved-Monkeys-List (scroll down see below). Now spread the blog tag and help prove Robert Wilensky... partially wrong.
The Strategist Notebook
,
Link Addiction
,
Ardour of the Heart
,
When Life Becomes a Book
,
The Malaysian Life
,
Yogatta.com What goes under the sun
,
Roshidan's Cyber Station
,
Sasha says
,
Arts of Physics
,
And the legend lives
,
My View, My Life
,
A Simple Life
,
What Women REALLY Think
,
Not Much More Than This
,
Jayedee
,
Jenn
,
Beth
,
Christie Marla
,
Cailin
,
Simone
,
FlipFlopMom
,
Katrina
,
Gill's Jottings
,
Work of the Poet Wakela Modern Day Goddess Livin With Me
,
Writing in Faith
,
Maiylah's Snippets GreenBucks
,
Its Not a Weekend; Its a Lifestyle
,
Rooms of My Heart
,
Life with the Two Crazy Dogs
,
Joy of a Homemaker
,
Shifting Sand
,
A Tale of Two Superheroes
,
Shadow Pimpernel