Originally this was supposed to be five books but I need to be realistic here. I'm going to take a week off from blogging (again!) to finish up all the loose ends of schoolwork that the lecturers had generously given me extra time to do.

I can be very creative with my excuses.

That still doesn't stop me from getting this metaphorical, - equally heavy and crushing - lump in my chest.

But as Julie Andrews had taught us in Sound of Music, one must think of happier things in the face of self-induced absurdity. Stress is bad for work after all, even if stress was caused from the work.

The top on my head is that I'm going to be home-sitting my home for two weeks as my parental units are both talking a globe-trotting adventure across the Middle-East. Ayah just wants to take all his Arabic classes for a real-world test-drive and Mak follows so she can watch him trying to impress her.

Even after years of marriage, Ayah is still trying to impress Mak. Sheesh, you would think old people just shroom things for granted by now.

But I'm going to command the house starting this Friday!

Hahaha, it's not like I'm going to plan a major party or anything. Good God, I'm busy with stuff to complete as it is! But house-sitting equals cash money and they always give more than what they think is sufficient. Generally, I make sure the car gets petrols and the cats get fed but myself can live off Maggi Mee and Ramlee burgers, no biggie.

Evil, evil meeeeeee...

I'm planning to use the extra cash to buy either one of these books, possibly two, if I can scrimp somemore.



The Spiderwick Chronicles by Tony DiTerlizzi and Holly Black
Hahahaha, hype, hype, hype! I'm trying to find something to replace the void left open since the end of the Harry Potter series. I've checked the synopsis on the series and it seemed like a pretty okay read, simplistic language notwithstanding. After all, it was mostly aimed for children.
Synopsis from Wikipedia:

The story takes place in New England, United States. Nine-year-old twins Jared and Simon and thirteen-year-old Mallory have moved to the decrepit Spiderwick Estate with their mother, Helen.

At first Jared hears strange noises in the walls but thinks it's a squirrel. While in bed later that night he hears it again. Mallory comes and tells them to go with her to find out what the noise is. So Jared, Simon, and Mallory go downstairs to the kitchen and begin to investigate. ...

He climbs up to a room at the very top of the house and finds a chest. In a secret compartment; inside it, there is a package. Jared unwraps it to find a book called "Arthur Spiderwick's Field Guide to the Fantastical World Around You". It is full of information on faeries.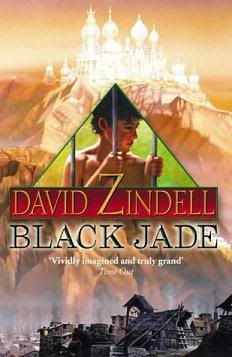 Black Jade by David Zindell
I had been a fan of the
Ea Cycle
since it's first book, the Lightstone, came out in 2001. I loved the fantastical story, the Arthurian-themed characters and the magical environment blended in to a build an epic almost as good as Tolkien.
I'm not a big fan of the plot though. At times it feels like the author is throwing too much peril at the protagonist's way simply because the protagonist has to have perils.
But it's a grab for me, indefinitely. I'm just having trouble finding the book. I found the super-sized paperback in MPH 1 Utama (which I can't afford) and it's be a very long while since the book was published and in any takes, it doesn't seem to be quite popular to be regularly stocked (waaaaaaah!).
Synopsis from Amazon:

Once more the Lord of Lies has the sacred gem in his possession and its power is invincible. Val burns with shame. Treachery surrounds him. His only hope is the Black Jade that lies buried in the heart of a cursed and blighted forest, forgotten since the War of the Stone.

But Val must risk everything, even his soul. The stakes are too high for anything less. Val is the Guardian of the Lightstone until a new master is made known, that person who will rightfully wield its power. Should Val find the sacred gem and take it for himself, he will become a new Red Dragon, only mightier and more terrible than the Lord of Lies.

Small Favor by Jim Butcher
Hehehehe, I've blogged about this upcoming latest novel in the series so often, Jim Butcher the Author ought to pay me for advertising. His new book, the 10th of his planned 23-book series, will be coming up in more or less 2 weeks.
However, the chances of it coming to Malaysia so soon after published date needs a margin of between another 2 weeks to a whole month.
So what the heck am I blogging of dreaming to sniff its new hardcover smell when it'll be long after my senior citizen got back from their desert tour, and thus, have the right to take back whatever balance left?
The first 4 chapters of his new book had just came up on the author's website, that's why. If you'll excuse me, I'm too impatient to not forgo such snippets!
Synopsis from Jim-Butcher.com:
Jim says, "Small Favor. Because, y'know, Harry still owes two."
No one's tried to kill Harry Dresden for almost an entire year, and his life finally seems to be calming down. For once, the future looks fairly bright. But the past casts one hell of a long shadow.

An old bargain has placed Harry in debt to Mab, monarch of the Winter Court of the Sidhe, the Queen of Air and Darkness-and she's calling in her marker. It's a small favor he can't refuse...one that will trap Harry Dresden between a nightmarish foe and an equally deadly ally, and one that will strain his skills-and loyalties-to their very limits.

It figures. Everything was going too well to last...