This is going to be one of the last entries I'm going to post in a long while (a week at least). You'll still see me around (check your comments, shoutboxes, MyBlogLog, Nuffnang community, etc) but I'm taking a break to complete the 1001 things I've left out while playing games.

Yes, shame-shame on me...

Out of the Four Commandments of Games, there are two that I really dig; Storyline and Visuals (if you don't know what's the other two, it's Gameplay and Music/Sound-Effects). I had second thoughts about reviewing this one, mainly because I kept forgetting/not-bothering to Print-Screen while playing it.

Heh. So prepare to be slightly disappointed though.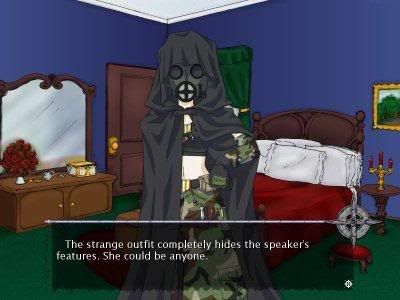 Enemies - and allies - come in many disguises.
The second concern was the poor visual environment (and I did say Visuals is my bias!) as this game is a simplistic, Flash-style interface in which its scenes were drawn by a collaboration of various artists and their own art styles. The end result is mismatched anime plus paintbrush, which was painful to view as the tale progresses.
Another point to remember is that although storyline is essential, it doesn't make the game that moves the concept of the game (which what I believe the designer forgot to take note of). This game follows the visual novel styles of which your actions at certain events determines which of the game's 14 endings you'll encounter.
Thus, if you're not a reader (unlike me) this game will definitely bore you.
With all this and that said,
Fatal Hearts
is really cool.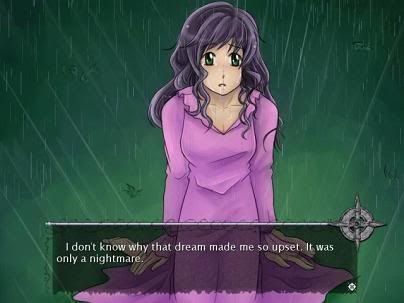 Some nightmares are just harder to wake up from.
You play Christina Robinson, an overly sensitive teenager fraught with strange dreams that may or may not have a connection with the sudden outbreak of murders amongst young women in your neighborhood.
Things are already bad enough with your best friend's parents behaving strangely around you, encounters with a gang of werewolves-cum-vigilantes and a centuries-old vampire pining for his lost girlfriend.
The only way this story can get any cheesier is if they added a macaroni-and-cheese cooking puzzle.
Oh wait, they did (hahaha...).
Bullies always target those who think they're strong.
What really, really stand out in
Fatal Hearts
is its big step away from all the conventional visual novel gameplay. Unlike
Azada
or
Hidden Secrets
or
Mystery in London
, this game uses some new puzzle challenges that are a new breath from the repetitive.
Be warned though, many of these puzzles are mighty challenging, - like the clock puzzle, the cultists' hooks, etc - preferably targeted for veteran players (preferably veteran players with some inkling of German culture).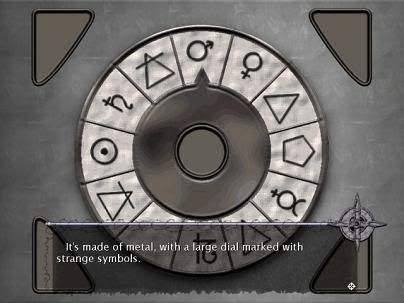 Ack! Does anybody know which one was the symbol for Fire again?
Overall, I liked
Fatal Hearts
as much as I like reading a new book by a favorite author (duh! Visual novel genre). Good, engaging, lots of replay potential without a doubt, but it kind of fails overall as a game.
I recommended this game for a rainy afternoon with no money, no car and lots of free time (which is not a bad thing to play actually).
Ripples in your fragile reality.
PS: Downloads for this game can be found in Reflexive Arcade. If you want the cracked version, ask me nicely.
PPS: Download for Fatal Hearts' Walkthrough can be found here, or better yet, you can visit the designer's website at http://hanako.informe.com/