: Hey looky! It's us again.


: Yeah. Looks like one of us is really trying not to do her homework.


: One of us? Don't you mean both of us? It takes two to make a whole Quickening.


: You're the Baddie. This excuse for a blog entry instead of the Java assignment is all your fault.


: Oh sure, blame it on my horns. As if your Brainy wings are pure white.


: Much as I like to banter with myself, I have something that's been bothering me in my mind since last Thursday.


: Ooo, you scared of the dark, Pretty-Wings?


: It's more likely to say that I'm scared of what crawls in the dark.


: Aren't you a little old for-


: Not monsters. I mean snatch-thieves, kidnappers and midnight lepak-ing boys.


: Oooh, that kind of menace.


: Yeah. Just because I'm paranoid doesn't mean a gang of 3 guys isn't hiding in a dark car in the alley between shoplots.


: And we - I - park really far from my car. This is the risk I face with for trying to save parking money.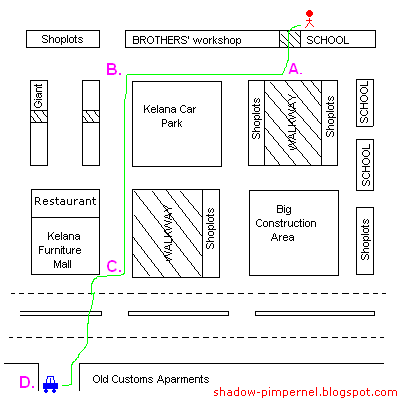 From school to my car, my usual route.

: Saaay, this thing wasn't an inspiration from
SewJin's blog
is it?

: No, my stick figure is prettier than his.

: Agreed.

: On most days at school, I'm not worried since I walk during the day.

: But on Thursday s, class ends at 9pm.

: Late night. Dark.

: Yeah. Too bad I can only go home with one of me.

: My biggest fear would be route B. to C. since it's so dark and a lot of folks park cars on both sides of the one-way street.

: Funny, I thought I'll be more afraid of route C. to D.; crossing the street.

: Yeah, but since it's at dark night, there's hardly any cars on the street.

: More space for snatch-thieves on motorbikes to hit-and-run.

: Okay, now you're scaring me worse.

: Sorry.

: So... what's an alternative route back to the parked car?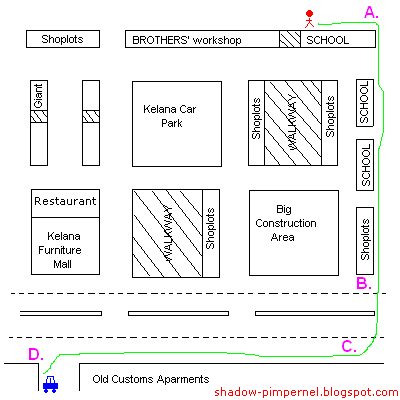 Alternative route No. 1

: How bout this one? There are security guards along the school blocks.

: Maybe.

: Why does my bad self sound so uncertain?

: It's route C. to D.; us British-infected cars drive on the left side with steering wheel on the right.

: Oooh, okay. You're scared that somebody might catch you by surprise from behind.

: TV ads did say walk facing the traffic.

: So we'll walk on the other side of the big road then.

: Next to the 'Big Construction Site'? There are big trucks parked there at night. Anything can hide in between them moving cement mixers.

: Pessimist.

: I'm cautious. No amount of pepper spray can help you if the dark-stalkers take you by surprise first.

: Let's try another route then.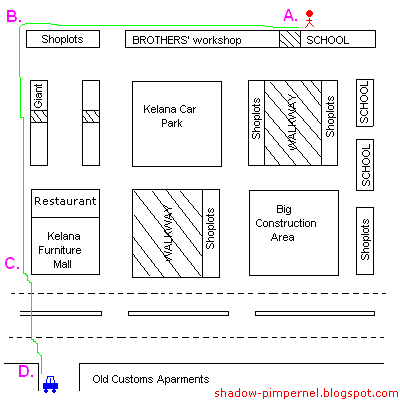 Alternative route No. 2

: Aaah, I can see much potential problems.

: Whaddya mean? This is a great alternative route. Point B. to C. is always busy and full of people. There's no way criminals can strike here.

: It's not the criminals hiding I'm worried about.

: Then what the heck-

: It's me.

: You?

: Me.

: Me?

: No, I mean me.

: Who me? Or you?

: ME!!

: Oh, meeeeee...

: Will you stop that?!

: You know, intrapersonal communication with myself is so much fun.

: You enjoy amusing yourself. You're weird. You're weird freaking towards
Tanjung Rambutan
.

: Yay, the crazy hospital. No, seriously, why don't you like Alternative route No. 2?

: The problem is that I like it too much.

:
*blinks*

: Temptation flares between route B. to C. KFC, Giant shopping, Ayamas, King Story bakery.

: Oh my gosh.

: And the piece-de-resistance, that restaurant mamak next to Kelana Furniture Mall.

: Your
tandoori
chicken addiction.

: I can
smell
it by just
thinking
about it! Aaaarrrggghhh!!

: Eeep! The diet! Remember the diet! Let's think of another way, say...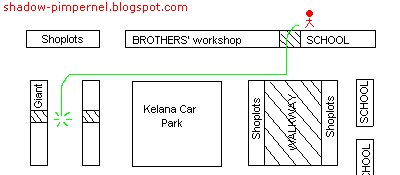 : No way!

:
*sigh*
What now?

: The road has hardly any streetlights, much less working streetlights. Lots of dark cars park there.

: Gotcha, let's try again.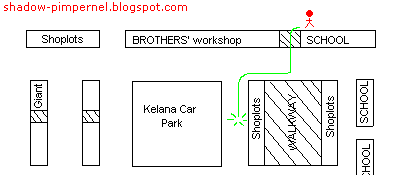 : That's even worse.

: How-?

: It's as bad at the one before but the alley has a direct road straight to the LDP. Anything can hide in that road, grab me and be gone in 60 seconds flat.

: Okay, this isn't helping at all.

: You must think of all the safety planning and precaution!

: Oh great. Now I'm mad at me.

: Well, you started it.

: How bout I just
fly
to my car? Look I got my wings already.

: You're being weird again.

: I'm the weirdo with wings. I'll split myself and leave you behind since you're such a big help.

: Oooi! Don't you dare!

: Bye-bye Baddie. Pretty-Wings can't stop to walk alone on Thursday nights!
Alternative route No. 3