Shucks.

I wish I had some time management skills or something. There's a course about it in Basic Business Skills class I had in my foundation year and I aced it. I think somewhere between foundation and final year, all them learnings must have leaked out of my head while I was asleep.

Bah, I was looking forward to the movie Jumper coming out in theaters on last Thursday. Wouldn't it be cool to travel as fast as the speed of thought? Your Ferrari is nothing to my smokescreen.

It'll cut down on a lot of traveling time too. No more queues, no more petrol money. Hey, I could sleep-in on Saturday and still be in time for class. I'll just have to remember to change out of my pajamas first (don't think Lec-Xercise would appreciate baggy pants with tiny printed blue flowers).

If you're wondering what the heck the movie Jumper have anything to do with this week's image critique... it doesn't. I'm just filling up blabbing space.

It's just that Jumper is a noun from a verb becoming an adjective, I found one image from CGSociety.org that fascinates me as a 'jumper'.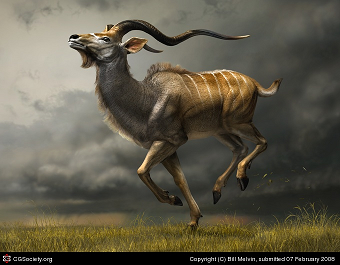 Definitely something for the desktop - that is, if your computer is fast enough.
This is an artwork of a charging kudu by Bill Melvin, an award-inflated artist with his website at
http://billmelvinart.com
. He made it as part of a mini art contest in the CGS forums, and then later decided that it would look great in a stormy African setting.
I got to say that this is a really cool rendition of a beast in running flight. I liked how he drew the accurate proportions of the deer to the real thing. However, I did not like the expression on the deer is too flat (one would have thought he would be panting, then it'll look more real).
Oooh, yeah. Speaking of jumping and running, it's my hour with Lec-Xercise now. Must learn VR theory. I wonder if
Jumper
did any VR scenes or they just used a dummy and burned it in speedy ash?