After I've updated my anti-virus yesterday, I decided to clean up my old-old-old folders. You wouldn't believe all the junk I've collected and backed-up throughout all the 3 PCs in my lifetime (Mak was a pioneer systems analyst before she retired so our family was computer oriented since the early 1980s).

I was checking through a file that's almost 5 years old when I came across this pretty piece of a gem. Dusty gem, faded colours with rusty fittings but still a gem.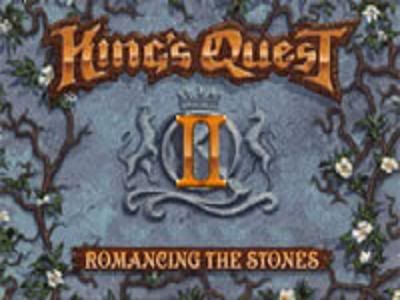 King' Quest 2: Romancing The Stones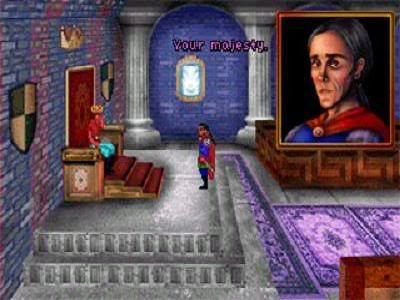 Your humble, loyal, utterly devoted servant. He's a bit... strange.
A long, long time ago before there was Playstation 2 (yes, there was life before Playstation), there was the PC and the games that depended on them. I'm practically old enough to remember original Sierra Entertainment Games (before it became Sierra On-Line).
However, this game is not it.
Look, a house! Maybe if you ask politely for directions, the mysterious inhabitants won't try to eat you.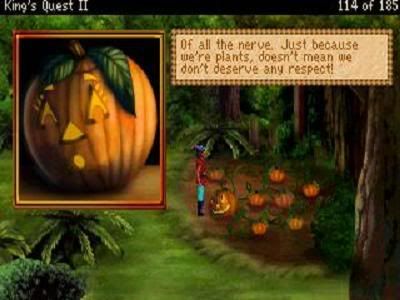 R-E-S-P-E-C-T spells 'pumpkin pie', lady!
Actually, it's only half-and-half. You see, the graphics here are from a remake of the second of one of the first games ever built for the PC,
King's Quest
series. You can tell by its generic title. Before there was Everquest, there was
King's Quest 2: Romancing the Throne
, a 12-bit graphic and text-based gameplay.
Oh,
please
don't make me explain what is 12-bit graphics or text-based gameplay. You'll make me sound old.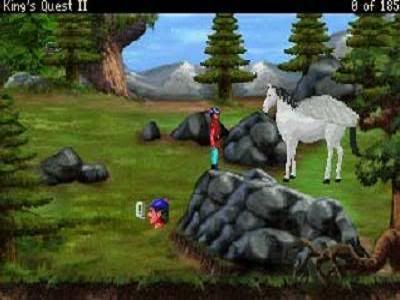 The game utilizes every animal known in the monster book.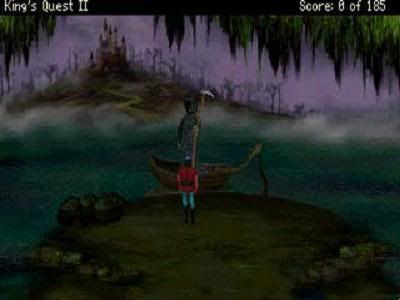 Just because he's the only river-taxi guy doesn't mean he could charge a freaking $$$&%*...
Riding on Sierra's success, AGD Interactive is a small-profit development team that is remaking some of Sierra's old games. For fun. So this means that this game can be downloaded for free.
I don't mind classic as long as the gameplay (and visual) are pleasing so I took a nostalgic trip last night. Following the continuation of
King's Quest 1
, your hero is Sir Graham, now the king of the nation, albeit a very lonely one.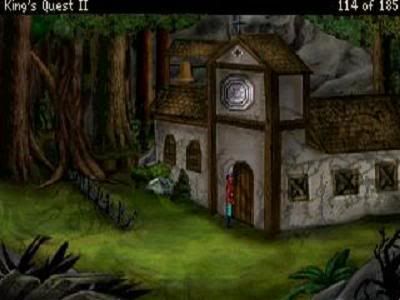 Oooo, spooky church. What a welcoming façade.
Stop for a moment to enjoy that nice woody digitised scenery.
You need a pretty girl to occupy the big red chair next to your throne so in the impulse of a dream, you set off to a land far away on an adventure of point-and-click proportions to save baby ducklings, fetch a basket of flowers, trick a half-blind witch (no difficulty there; really...), deal with grumpy librarians and get in the middle of the clichéd vampires vs. werewolves war.
Oh yeah, you have to remember to rescue a damsel in distress somewhere at some point.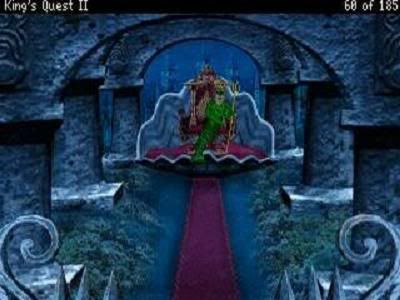 Ol' King Neptune wants something for you just as you wants something from him.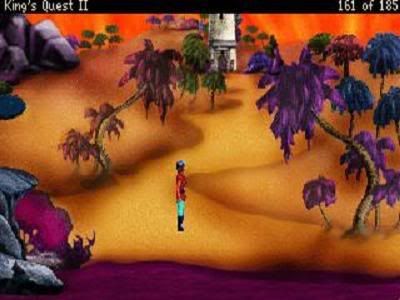 Welcome to Surrealism Isle. Please follow the completely safe route to the tower.
Although this is a games review, I'm not going to be totally serious on the aspects of the Four Commandments of a Good Game as I always do, mainly because this was a classic of elderly proportions. I liked it, it's nostalgic to me and mostly, you still can download this game for free (took me a while to find a working download link; haven't I mentioned that this game is almost 5 YEARS old?).
The download includes both the game, the speech package and its music package as well. Beforewared though, it's over 100MB... (hehehe!).
Click here to Download this Game:
http://download.chip.eu/en/King_s-Quest-2-VGA-Romancing-the-Stones-2.0_159915.html
Click here for complete walkthrough:
http://www.agdinteractive.com/KQ2-walk.php
Click here to Download the Previous Game (
Quest For the Crown
):
http://download.chip.eu/en/King_s-Quest-1-VGA-Quest-for-the-Crown-3.0_159895.html
Click here for
Quest For the Crown
's complete walkthrough:
http://www.agdinteractive.com/KQ1-walk.php