I'm supposed to be having my semester break starting last Monday. I'm using the term 'supposed to' in purely rhetorical terms because come hell or high water, I'm still going to battle NKVE morning traffic to secure my place in the PC workstation for the internet.

Cyber café? Naaaah...
I'm saving money to buy a new book. Witness my totally serious stance to literature.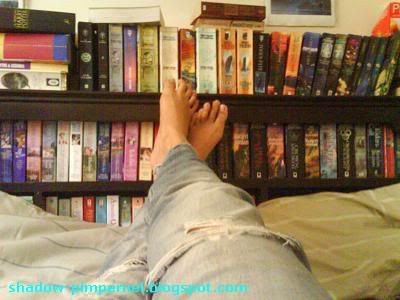 I know what you're thinking. Damn, my thighs are huge...*sigh*
I've read every book you see here at least once and it's still not as much as I would like. I haven't read enough books to declare which one would make an interesting review. I'm practically starved for fiction at the moment and my Nuffnang pay doesn't come up this month. Checking around for second hand books though.
Granted, the book I planned to buy is something I've already sneak-read in The Curve's Borders bookstore (if anybody found a RM$1 bookmark - that's literally is one ringgit - please, please return to this absent-minded beggar
*boo-hoo*
).
And the real book I would love to buy is still in hardcover and really, reeeeeeeeally wanted book... is no longer in publication (see my Wishlist). Most of the books I'm targeting are either in the romance or fantasy or mystery section. Preferably something with a third of each.
But you know what I really like to see? Not necessarily to read but something definitely interesting to browse through. Bookstores stocked with
these
titles. I swear you'll never see books like these unless probably in a shady cult store.
*****
Santa Claus's Travel Guide
:
Includes nice places, not-so-nice places, nice-to-be-naughty places and regions hostile to unidentified flying sleds.
War and Peace
; written in SMS language.
Pop-out Children's Book: Teach them the Birds and the Bees
Caution: illustrations in the pop-outs may or may not have been exaggerated.
Oxymoronic Dictionary
:
Where everything means the opposite of what it is.
Do-It-Yourself Acupuncture
:
A step-by-step instructional guide from 'pincushion' to 'pufferfish' to 'Stick It Like How Julius Caesar Popped'.
Guide to Profanities and Obscene Hand Gestures
:
Get ready to spit the ***king crap out of your grandmother and her favourite lesbian stripper.
Must Watch Movies as divided into New Rating Scheme
:
G-ratings (nobody gets the girl)
PG-ratings (good guy gets the girl)
R-ratings (bad guy gets the girl)
X-ratings (everybody gets the girl!)
XXX-ratings (everybody gets the girl, her mother-in-law and their Chihuahua)
Chicken Overkill Recipes
:
The best ways to prepare
ayam kampung
(free-range chicken) after you've ran it over with your car. Try the
'Chicken Die Standing'.
Complete Illustrated Works of Karma Sutra
:
*no really, where the hell can you find a thorough and explicit comprehension anywhere nowadays?*
Fun Ways to Nearly Kill Yourself While Travelling: North Korean Edition
(note: 1100 pages thick).
Malaysian Judicial System
:
Step One; cellphone etiquette. Step two; pretend ignorance of any video. Step three; escape to remote locations in Southern Hemisphere...
1001 Excuses You Can Use for Not Doing Your Homework
:
"...I'm currently going through déjà vu and amnesia at the same time. I think I've forgotten this before."
PS: On a more useful tip, I recommend
Sams Teach Yourself Programming with Java by Rogers Cadenhead
if you want to advance on Java programming. Either the author was high on a caffeine-beer mixture when he wrote this, or he really did have a candy-apple red thong underwear with embroidered text "My dog can beat up Paris Hilton's dog."